DAILY MASSES
Daily Masses Are Subject To Change
Mass Times
Monday & Friday 12:10pm
Tuesday & Thursday 8:00am
Wednesday 7:00pm
Saturday Vigil 5:00pm
Sunday 10:30am & 5:00pm
Office Hours
Monday thru Thursday 9:00am - 4:00pm
Closed on Friday

304-422-6786

609 Market Street
Parkersburg, WV
Eucharistic Congress Bus
"Believe what Christ said at the Last Supper, 'This is my Body. This is my Blood!'" This has been Bishop Mark Brennan's emboldening message to the faithful during his ministry.
Spanning from the 2022 Feast of Corpus Christi – the Most Holy Body and Blood of Christ to Pentecost 2025 the faithful in the United States will celebrate the National Eucharistic Revival.
Our diocese will host three regional Eucharistic Congresses to gather all the faithful to celebrate Christ's real presence in the Eucharist. Each will feature Mass, Adoration, dynamic national presenters, and inspiring break out session focused on the Eucharist, and fellowship. The dates and locations of the 2023 regional events are:
June 2-3 Basilica of the Co-Cathedral of the Sacred Heart, Charleston
The United States Conference of Catholic Bishops (USCCB) outlined the mission of our three-year event as a renewal of "the Church by enkindling a living relationship with the Lord Jesus Christ in the Holy Eucharist." The revival has four significant components:
Year of Diocesan Revival from June 19, 2022, to June 11, 2023 – diocesan events centered around Christ's true presence in the Eucharist.
Year of Parish Revival from June 11, 2023, to July 17, 2024 – parishes will coordinate events for deeper encounters with Christ through Adoration, Mass, and enrichment.
National Eucharistic Congress Event set for July 17-21, 2024 –Catholics of all ages will gather in Indianapolis for a five-day conference to build enthusiasm among the faithful to be "eucharistic missionaries."
National Year of Mission – July 17, 2024, to Pentecost of 2025 – all Catholics are encouraged to evangelize and be a light of Christ in the world.
This revival was developed by our US bishops after the USCCB June 2021 vote to focus on Christ's true presence in the Eucharist – the source and summit of Christian life (Catechism of the Catholic Church no. 1324).
The bus traveling to Charleston will depart from St Francis Xavier at 8:00am June 3rd and return in the evening. Snacks will be provided on the way home. Please visit dwc.org to register. To reserve a seat on the bus ($22 each), please visit:
https://www.wesharegiving.org/App/Form/c8c9acd2-6777-437c-bc60-49dc4385a095
Events
Patris Corde
PATRIS CORDE OF THE HOLY FATHER FRANCIS
New Parishioners Online Registration Form
If you would like to become part of our parish. Please complete the New Parishioners Online Registration Form by clicking HERE.
Mission Statement
We, the faithful of St. Francis Xavier Catholic Church, enjoy a rich and varied heritage and, guided by the Holy Spirit proclaim and live the teachings and example of Jesus Christ and His Church. With Saint Francis Xavier as our model, we selflessly offer ourselves in service to God and one another. We seek always to promote the sanctity of human life and inherent dignity to be afforded to all God's children. We seek to witness our faith, promote a sense of community, foster the family, protect the weak, comfort the sick and dying, and announce the good news of salvation to all. We join our hearts and minds by lifting our hands in worship and fostering Christian education and action.
Protecting God's Children
To report an incidence of suspected child sexual abuse, please contact your local law enforcement agency, or you may confidentially contact WV Child Protective Services at 800-352-6513. To report suspected cases of sexual abuse by personnel of the Diocese of Wheeling-Charleston to the Diocese, please contact the Diocese at 888-434-6237 or 304-233-0880.
Weekly reading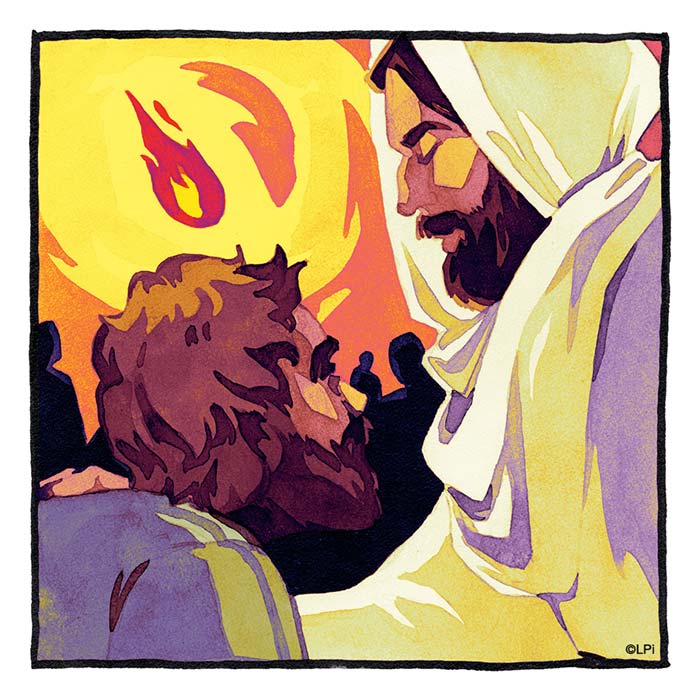 © Liturgical Publications Inc